Automatic vertical L-Sealer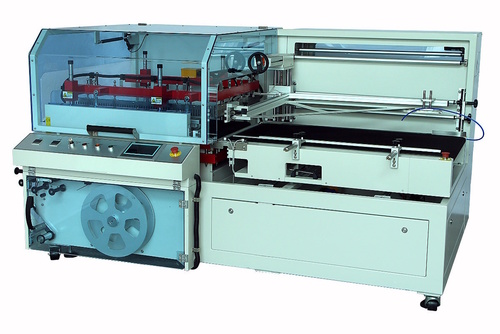 Automatic vertical L-Sealer
Price And Quantity
Product Specifications
Heavy Duty Tunnel

Mild Steel
Product Description
This Automatic Vertical L- Sealer belongs to the category of heavy duty tunnel. It is also made up of using the optimum grade of mild steel with the help of the cutting edge technique. This automatic grade of machinery does have a PLC control system which is known for providing consistent sealing process. Offered machine has pillars drive design is known for offering exceptional stability and durability. It provides the seamless sealing is said neat and fix without fold line. This does have the two sets of photoelectric sensor of photoelectric sensor system automatically compensate for package length change.
Features of Automatic Vertical L-Sealing Machine:
The device has automatic film advance system.
Different brands of shrink films are acceptable.
It is of sky blue in color.
It can be availed at affordable rates.
Automatic Vertical L-Sealer Advantages:
Consistent sealing process.
Pillars drive design provides excellent stability and durability
Seal seam is neat and fix without fold line
Automatic film advance system
Two sets of photoelectric sensor system automatically compensate for package length change
Tool-less change over with scaled adjustments throughout
Different brands of shrink film is acceptable
LB-801 is mainly designed for packing thin and tiny product.
LB-801 and LB-802 is equipped with kissing conveyor
Model

LB-801

LB-802

LB-803

Machine Size

L x W x H (mm)

1510 x 1380 x 1230

2000 x 1670 x 1325

2430 x 1965 x 1325

End Seal Bar (mm)

450 x 335

630 x 520

900 x 700

Packing Size

L x W x H (mm)

(50 - 400) x (50-280) x (2 -150)

(100-560) x (60-430) x (10-220)

(200-830) x (200-630) x (10-220)

Voltage

220V / 1PH

220V / 1PH

220V / 1PH

Power (Kw)

2.5 Kw

3 Kw

4 Kw

Pneumatic

55psi, 6kg/sq.cm

55psi, 8kg/sq.cm

55psi, 8kg/sq.cm