Automatic Web Sealer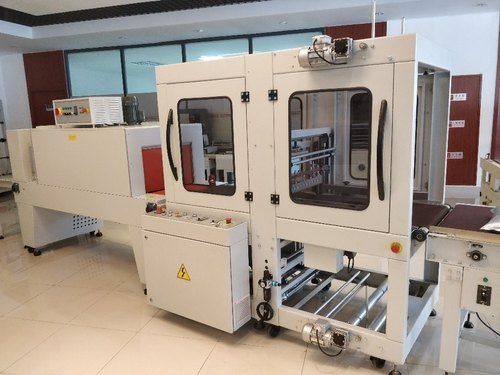 Automatic Web Sealer
Price And Quantity
Product Specifications
Web Sealer

10-20 Pcs / Minute
300 - 500 Kilograms (kg)

Yes
220 - 440 Volt (v)

AC Motor
Product Description
Automatic Web Sealer is a heavy duty line machine for sealing the large carton boxes. The machine is made up of hard cast iron and stainless steel metal and coated with heat resistant paint to make it more durable and corrosion resistance. It is easy to assemble and consume low power voltage for functioning. Offered, Auto Web Sealing Machine provides the maximum packaging size of 1.8 x 0.65 x 0.45 mm dimension with capacity of 10 to 20 pack/ min. The machine has automatic sealing and cutting blades which has speed of 0.5 to 15 seconds. Moreover, the speed can be adjusted as per requirement of the operation.
Automatic Web Sealer Specifications:
Model : JP107
Power : 18 Kw
Max. packing size : 1.8 x 0.65 x 0.45
Transfer belt dimension : 800-1200 mm
Operating power supply : 380 Volt
Sealing and cut time : 0.5-1.5 second
Operating air pressure : 0.6-0.8 Mpa
Capacity : 10-20 pcs/minute
Automatic Web Sealer Features:
1. Conveyor System: The machine includes a conveyor system that moves the product through the packaging process.
2. Film Roll Holder: A film roll holder is included in the machine to hold the plastic film used to wrap the products.
3. Cutting and Sealing System: The machine has a cutting and sealing system that cuts the film to the appropriate size and seals it around the product. The sealing system is usually a heating element that melts the plastic to create a secure seal.
4. Adjustable Film Tension: The film tension can be adjusted to ensure that the plastic wrap is tight enough around the product to protect it during transportation and storage.
5. Digital Controls: Many Web Sealer machines have digital controls that allow the operator to adjust the settings for the conveyor speed, sealing temperature, and other parameters.
6. Safety Features: Safety features such as emergency stop buttons and safety guards are included in the machine to protect the operator and prevent accidents.
7. Compatibility with Shrink Tunnel: Web Sealer machines are often used in combination with a shrink tunnel, which shrinks the plastic film around the product for a secure and professional-looking finish.
8. Customizable Options: Some Web Sealer machines are customizable, with options such as adjustable sealing height, adjustable product guides, and automatic film loading and cutting.
Frequently Asked Questions:
Q: What products can be packaged using a Web Sealer machine?
A: Web Sealing machines are designed to package a wide range of products, including boxes, bottles, cans, and other packaged goods.
Q: What types of plastic film can be used with a Web Sealer machine?
A: It can use a variety of plastic films, including polyethylene (PE), polyvinyl chloride (PVC), and polyolefin (POF) films. The choice of film will depend on the product being packaged and the desired level of protection.
Q: Is it easy to change the film roll on a Web Sealer machine?
A: Yes, most Web Sealer are designed to make it easy to change the film roll. The film roll holder is usually accessible and can be easily replaced when a new roll is needed.
Q: How fast can a Web Sealing machine package products?
A: The speed at which this machine can package products will depend on a number of factors, including the size and shape of the product, the type of film being used, and the machine's settings. In general, Web Sealer machines can package products at speeds of up to several hundred units per hour.
Q: What is the difference between a Web Sealer machine and a shrink wrapping machine?
A: A Web Sealer machine is used to wrap products in plastic film, while a shrink wrapping machine uses heat to shrink the film around the product, creating a tight seal. Web Sealer machines are often used in combination with a shrink wrapping machine to create a more secure and professional-looking package.
Q: What maintenance is required for a Web Sealing machine?
A: Regular maintenance is important to keep a Web Sealer machine in good working condition. This may include cleaning the machine, replacing worn parts, and lubricating moving parts. It is also important to follow the manufacturer's recommended maintenance schedule.
Trade Information
Cash in Advance (CID), Cheque, Cash Advance (CA)

1 Per Week