Box Wrapping Machine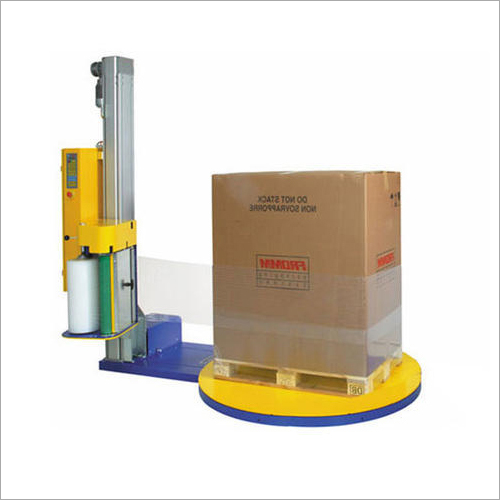 Box Wrapping Machine
Price And Quantity
Product Specifications
Semi-Automatic

230V/50 Volt (v)
450x500x800 Millimeter (mm)
Product Description
Box Wrapping Machine or Carton Wrapping Machine is a simple and convenient device to wrap carton boxes and objects of similar geometry. This protection can be given to small & medium sized objects packed in carton boxes, cans, tins, drums, etc. This is highly suitable for goods with light weight that can be manually loaded, turned over, wrapped and unloaded from the machine. It can be easily integrated into conveyor lines. This machine is unique and highly precise and can be easily integrated into conveyor lines and are simple to operate. This machine is very effective as well as economical too.
Carton Wrapping Machine Specifications:
Model: JP-01
Turntable Speed: 20 rpm/min
Turntable Loading (max): 100 kg
Electrical Requirement: Single Phase 220 V/50 Hz
Power: 1.0 kW
Film Carriage: Pre-Stretch Type
Machine Weight : 200 Kg
Machine Dimension (mm): 1595 * 600 * 1194
Film Roll Width: 500 mm
Turn Table Speed: 3-20 RPM
Power Supply: 230V/50Hz
Power Load: 600 W
Net Weight: 120 kg
Max Packaging Weight: 50 kg
Max Packaging Size: 450H * 500W * 800L
Frequently Asked Questions:
1. What are the advantages of using a carton wrapping machine or box wrapping machine?
Ans: Using this machine can provide several benefits, such as improved product protection during transportation, reduced labor costs, increased productivity, and enhanced product presentation.
2. What are the different types of carton wrapping machines?
Ans: Some types of this machine include semi-automatic machines, automatic machines, and robotic machines. Semi-automatic machines require some manual intervention, while automatic machines can perform the entire wrapping process automatically. Robotic machines use robots to perform the wrapping process.
3. What types of wrapping material can be used with carton wrapping machines?
Ans: This machine can use a variety of wrapping materials, such as stretch film, shrink film, and other types of wrapping materials. Stretch film is the most commonly used material due to its versatility, cost-effectiveness, and ease of use.
4. What are some common features of carton wrapping machines?
Ans: Common features of this machine include adjustable wrapping speed, adjustable film tension, programmable wrap cycles, automatic film cutting and sealing, and various safety features.
5. What are the maintenance requirements for carton wrapping machines?
Ans: It require regular maintenance to ensure optimal performance and longevity. Maintenance tasks may include cleaning, lubrication, and inspection of the machine components.
6. What is the typical speed of carton wrapping machines?
Ans: The speed of this machine can vary depending on the model and the wrapping material used. However, most machines can wrap up to 25 to 30 cases per minute.